Help
Frequently Asked Questions
General Information
top What is the premium service?
TLScontact is pleased to present its new package: Premium Service, which allows you the following benefits:
An access to our Premium Lounge for the deposit of your application, as well as a wide range of magazines, hot and cold drinks.
A private, calm and relaxing space.
An efficient and prompt service (an extremely reduced waiting time).
A private space for deposit of additional documents, if needed.
You can enjoy our Premium Service for an additional amount of 219 EGP for every visa application.
Please note that this service does not assure you to obtain a visa, a nearer appointment to apply, or a faster processing of your file.
top Do I need a Schengen visa?
Egyptian passport holders
All Egyptian nationals must have a valid visa to enter the Schengen Area, regardless of the duration of their stay and no matter what kind of travel document they have, except if they have a valid residence permit which enables them to stay in the Schengen Area.
Nationals of other countries
Foreigners in Egypt must hold a valid residence permit that covers three months from their date of return from the Schengen area.
Citizens of some countries are exempt from the requirement for a visa to enter the Schengen Area for a short stay or transit:
Nationals of the European Economic Area: the EEA includes the 28 Member States of the European Union as well as Iceland, Liechtenstein and Norway.
No visa is required for a short stay of less than 3 months as part of a trip for tourist or business purposes (no work allowed) for citizens of some countries (click here for the list)
The holders of a blue or red United Nations "laissez-passer" travel document, whatever their nationality, are exempted from short-stay visas for:

- France metropolitan area

- DROM

- CTOM
Nationals of Albania and Bosnia
Albania and Bosnia biometric passports holders are exempted from short stay visas since December 15th, 2010.
Holders of non-biometric Bosnian passports still need a visa.


As from the Schengen Border Code (article 5§1 a)), third-country nationals who do not require a short-stay visa (when travelling for intended stays of no more than 90 days per period of 180 days in the Schengen area), must hold a valid travel document satisfying the following criteria:
- its validity shall extend at least three months after the intended date of departure from the territory of the Member States or, in the case of several visits, after the last intended date of departure from the territory of the Member States.
- it shall have been issued within the previous 10 years.

top Where can I apply for a visa?
Visa applications for France are now received by TLScontact, except for some categories that are still received by the Consulate General of France in Cairo directly (see Jurisdiction).
If you intend to visit only one Schengen country, you must apply at the Embassy or Consulate of this country.
If you intend to visit several Schengen countries, you must apply for a visa at the Embassy or Consulate of the country in which you will stay the longest.
If you intend to visit several Schengen countries but do not have a main destination (i.e. the duration of your stay is the same in different countries), you should apply for a visa at the Embassy or Consulate of the country that is your first point of entry.
top How do I apply for a visa?
To apply for a visa, you should first register on this website, and then follow the instructions. For more details about the procedure, please click here.
top When should I apply for a visa?
You may only submit your visa application within 90 days before your date of departure. We recommend that you apply at least 20 working days before the date you intend to travel.
top What kind of visa do I need to apply for?
top Where can I get a visa application form?
Visa application forms (
short stay
and
long stay
) can be downloaded.
top What are the required documents for a visa?
In order to prepare all the documents required for your application, you should visit the TLScontact website and register to obtain an individualized list of required documents, according to the purpose of your stay in France. All documents must be provided in English or French and if the original document is in any other language it must be provided with certified translations into English or French. To get your individualized document list, please register on our website.
top Could the Visa Section request me to provide additional documents or informations?
Yes, the Consulate may request you to provide additional documents or informations, according to your personal situation, even after you have submitted your application at TLScontact. Please note that any additional document, which is not required in the basic list according to your type of visa, must also be accompanied with a certified translation into either English or French if it is in any other language.
top What are the requirements for insurance?
Due to a regulation of the European Union (Decision 2004/17/CE of December 22nd 2003), there is a requirement to hold travel insurance, which is a compulsory document.
The travel insurance should be:
Valid for Schengen area if you apply for short stay visa
Valid for France if it is required in the document list and you apply for long stay visa
Valid for DROM/CTOM according to your itinerary
Your travel insurance must be valid with a minimum cover of €30,000 in order to face any expenses that may arise in connection with your repatriation for medical reasons, urgent medical attention or emergency hospital treatment. The travel insurance should fully cover the period of your stay in the Schengen Area. (see list of approved insurance companies.)
top How can I renew my circulation visa?
The "circulation visa renewal" simplified procedure applies only if you have previously obtained a circulation visa on an ordinary passport. A child listed on a parent's passport cannot make an application for a circulation visa renewal, as the circulation visa must be stamped on an individual's passport under their own name. A circulation visa may be renewed within three months of its expiry date or up to one year after it has expired and provided that it was the last Schengen visa issued.
Please note that this simplified procedure does not apply if your previous circulation visa was stamped on a diplomatic passport, a service passport or a passport for public affairs.
top In which case do I need to provide the Lodging attestation?
You have to provide the proof of accomodation if you apply for a short stay visa and a friend or a relative will host you in their apartment or house.
top What are the requirements for visa applications of domestic staff?
No visa for France can now be issued to domestic staff without the submission of approval from the French labor office of the host's place of residence. No other documents or statement of convenience can replace this requirement.
top How can I collect my passport?
Passports can be collected from Sunday to Thursday, 08:30 to 15:00 at TLScontact. When your passport is ready to be collected, you will be notified online on your personal account page and by SMS, informing you to come to the TLScontact center with your visa application checklist and the original and a copy of your identity card. If you chose to have your passport returned to you by TNT service, it will be sent directly to the address you have specified.
top Can TLScontact send me my passport by express mail?
TLScontact offers an express registered mail service, allowing you to receive your passport directly at your home or your office. Please inform us if you wish to use this service when you submit your application at the TLScontact center. If you choose to cancel this service after your application has been submitted, the courier fee cannot be refunded. Recipient address and information for the courier service must be filled in by the applicant or representative during application submission appointment. Once the application has been submitted, no changes can be made to the recipient address and information. We therefore kindly ask you to confirm recipient address and information before the application submission.
top Can someone else pick up my passport for me?
Yes, a representative may retrieve your passport on your behalf provided that they bring:
Your application checklist
A copy of your ID card
The original and a copy of your representative's ID card
An authorization letter signed by you
top Can someone else apply for a visa on my behalf?
Personal appearance is mandatory for all visa applicants, unless you are exempted from biometric data capturing.
Personal appearance exemption conditions:
Children under 12 years of age. Finger scans are not required
Applicant has previous Schengen visa delivered within 59 months and with the remarks ''VIS'' is mentioned.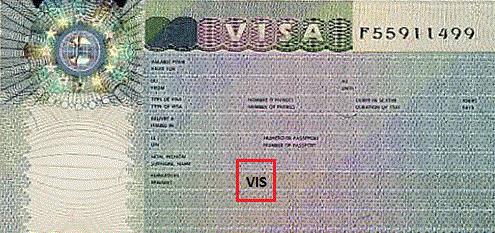 Notice: If applicant's latest Schengen visa mentions ''VIS 0", applicant is still required to provide their biometric data, as "VIS 0" visa means only alphanumeric data and a photograph are provided, but no fingerprint.
top What is the difference between a Schengen visa and a national visa?
A Schengen visa (type C) is a visa issued by one of the member countries of the Schengen Area and is valid for a short stay, limited to 90 days within any 180 days period, only for Schengen countries.
European competence to receive and issue such visas is made by the consulate of the country of destination. In case of a trip in multiple Schengen countries, the main destination is determined by the purpose of the trip or duration of the stay. Professional reasons for a stay in a Schengen country outweigh its jurisdiction on the grounds against tourism, family or private visit in another state.
A national long stay visa (type D) is only valid for an establishment or a stay of more than 90 days in the country which issued the visa. The national visa allows, however, transit through other Schengen countries and for some (long stay French citizen's spouse, workers, students or visitors) it also allows traveling freely throughout the Schengen area.
top Closing dates of TLScontact Centers
Closing dates of TLScontact Centers in year 2016
.
| | |
| --- | --- |
| Date | National and Public HoliDays |
| Thursday, January 07, 2016 | Coptic Christmas |
| Monday, January 25, 2016 | Revolution |
| Monday, April 25, 2016 | Revolution - Police day |
| Sunday, May 01, 2016 | Labor day |
| Monday, May 02, 2016 | Sham el Nessim |
| Thursday, July 07, 2016 | Eid el Fitr* |
| Friday, July 08, 2016 | Eid el Fitr* |
| Friday, July 09, 2016 | Eid el Fitr* |
| Saturday, July 23, 2016 | Revolution |
| Tuesday, September 13, 2016 | Eid el adha* |
| Wednesday, September 14, 2016 | Eid Al Fitr * |
| Wednesday, September 15, 2016 | Eid el adha* |
| Sunday, October 02, 2016 | Islamic new year* |
| Thursday, October 06, 2016 | Armed forced day * |
| Monday, December 12, 2016 | Prophet Mohamed's Birthday* |